ACCLAIMED ARTIST AND AUTHOR HERVÉ TULLET PRESENTS
ART IN MY WINDOW, A CREATIVE WORKSHOP CRAFTED TO UPLIFT
FAMILIES AND SPREAD JOY THROUGH ART REMOTELY 
DURING THE CONFINEMENT PERIOD
The new interactive initiative is part of Tullet's successful Ideal Exhibition project, in which the artist invites 
individuals to create and share their own art projects fashioned in the spirit of his techniques
NEW YORK, NY—The Cultural Services of the French Embassy, in collaboration with La Petite Ecole 
NYC and Bayam, will host a free art workshop on the Cultural Services' Facebook Page on Saturday, 
April 25, 2020 at 11:30 a.m. EST for families and art lovers seeking meaningful entertainment during 
the COVID-19 confinement period. It will be led by artist Hervé Tullet, author of the New York Times
bestselling book, Press Here, and La Petite Ecole NYC French preschool.
Live from his Harlem, New York City home at the epicenter of the COVID-19 pandemic, Tullet will lead 
a whimsical, flexible, and carefully curated workshop on making flower-themed art using supplies readily 
available to participants in their homes. Participants will be encouraged to display their artwork in their 
windows after the workshop, creating a joyful and colorful scene for neighbors and passersby to see.
An extension of the Ideal Exhibition project, created in 2018 by Hervé Tullet and Tobo Studio, Art in My 
Window draws from Tullet's conviction that creating art should be an approachable, fun, and lively 
activity: Can an exhibition take place in a shoebox? In a museum? In a window? Of course! Anything's 
possible.
The workshop will be freely accessible to a broad audience of families and art-lovers alike, and 
participants will be invited to comment their questions for the artist and post photos of their creations.
What: FREE Facebook Live Workshop on Creating Flower-Themed Art
Who: Hervé Tullet, artist and author (Press Here), co-hosted by La Petite Ecole NYC
When: Saturday, April 25, 11:30AM EST
Where: The Cultural Services of the French Embassy's Facebook Page
Hashtags: #ArtinMyWindow #DesFleursPourTous
Partners of the project : 
The Cultural Services of the French Embassy
The Cultural Services of the French Embassy promotes the best of French arts, literature, cinema, digital 
innovation, language, and higher education across the U.S. Based in New York City, Washington D.C., 
and eight other cities across the country, the Cultural Services brings artists, authors, intellectuals, and
innovators to cities nationwide. www.frenchculture.org
Hervé Tullet
Hervé Tullet, born in Normandy in 1958, is a world-renowned French artist, performer and author of 
children's books. He has published more than 80 books, including Press Here––first published in the 
United States in 2011. The book spent an astonishing four years on The New York Times Best Seller list
and has now been translated into over 40 languages. Tullet is equally known for his workshops, 
sometimes bringing up to several hundred people together. These unique and creative experiences have 
taken him to Korea, Turkey, London (Tate Modern), Italy and the U.S.––where he has lived since 2015.
He has performed at venues such as the Library of Congress (Washington), The Museum of Modern Art, 
the Guggenheim Museum, and The Invisible Dog Art Center, among others. In 2018, Tullet launched The 
Ideal Exhibition, a grand and collaborative project that invites everyone––from museums, to schools,
to individuals––to create their very own exhibition inspired by Tullet's creative process and techniques.
La Petite Ecole NYC
La Petite Ecole is a French immersion boutique preschool in NYC with locations in Greenwich Village 
and the Upper West Side. Our project-based pedagogy and arts-curated program prepares children to 
become fully bilingual and bicultural, ready to read and write in French by Kindergarten. As La Petite
Ecole's artist-in-residence for the past 4 years, Hervé Tullet has designed and led many artistic 
performances and workshops for the children and the community of La Petite Ecole NYC. Among Tullet's 
most memorable partnerships with the school are the Giant Flower workshop inside the entire interior
space of La Petite Ecole Greenwich Village (2016); Bloom of Multiculturalism, a block-wide, 3-story-
high mural at PS 84, NYC (2018), the first Ideal Exhibition in New York City, created with 850 Lafayette 
Academy MS256 students (2019), and The Ideal Exhibition Curriculum in 24 lessons for the IIOI
MUSEUM in Seoul, Korea (2020). www.lpeny.com
Bayam
Bayam is a branch of the French press and publishing group, Bayard, which has been a leader in early 
childhood literature for 50 years. Creating a space for creativity and discovery for children is Bayam's 
main objective. The brand is convinced that digital technology is a formidable vector for understanding
the world. It offers playful and discovery-oriented digital experiences for children from 3 to 11 years old. 
These include interactive documentaries, logic and skill games, and creative workshops, among other 
content. The interface, simple and secure, offers children a wide choice of original content developed by 
the Bayam studio in collaboration with the great authors of Bayard's publishing house. bayam.tv
In the press : 
https://frenchmorning.com/le-projet-dherve-tullet-pour-mettre-de-la-couleur-dans-le-confinement/
Le projet d'Hervé Tullet pour mettre de la couleur dans le confinement
Dessinateur et auteur de livres pour enfants, super-star des petits et de leurs parents, Hervé Tullet n'aime rien tant que de faire créer les autres. La crise actuelle lui donne une occasion rêvée. Il propose ce samedi un "atelier virtuel" géant, pour permettre à tous de dessiner ensemble et avec lui, via Zoom et Facebook live.
L'opération, nommée "Art à ma fenêtre" est née de la collaboration entre Hervé Tullet, qui habite à Harlem depuis pus de 4 ans, et La Petite Ecole, une école maternelle privée. "Quand il a fallu fermer l'école brutalement, et pendant qu'on préparait la suite du programme en ligne, je me suis dit : 'on va dessiner tous ensemble pendant toute une semaine'", raconte Virgil de Voldère, le directeur de l'école. Fort de sa collaboration régulière avec Hervé Tullet, il a organisé cette semaine de dessin autour de ce que l'auteur appelle "L'exposition idéale", un concept destiné à encourager chacun -écoles, schools, familles, individus- à créer sa propre exposition inspirée de son processus créatif et de ses techniques.
"Cela nous a permis d'avoir une première semaine extraordinaire, raconte Virgil de Voldère. Là où tout le monde était angoissé, inquiet, nos enfants et leurs familles étaient hyper contents, c'était la fête". Cette bonne humeur a donné à tous l'envie de reproduire l'expérience en plus grand. Et samedi 25 avril, à 11:30am EST (8:30am PST), Hervé Tullet sera en direct depuis son atelier de Harlem pour dessiner et faire dessiner des fleurs que chacun sera ensuite encouragé à afficher aux fenêtres.
Pendant toute la séance, Virgil de Voldère fera "le DJ", en animant la séance et faisant pour l'audience des aller-retours entre les dessins des enfants partagés devant leur écran et le travail d'Hervé Tullet. "L'objectif c'est de faire un évènement plein de vie et plein de joie" dit-il.
Pour participer, il suffit de se connecter -tout est gratuit- et de préparer :
du papier: installer une grande feuille, sur le sol ou sur un mur, ou un paquet de feuilles à utiliser tout au long de l'atelier.
de la peinture, des feutres ou des marqueurs. Hervé Tullet est connu pour sa passion pour son utilisation du bleu, rouge et jaune, mais les enfants peuvent choisir leurs couleurs favorites.
Les instructions en couleur: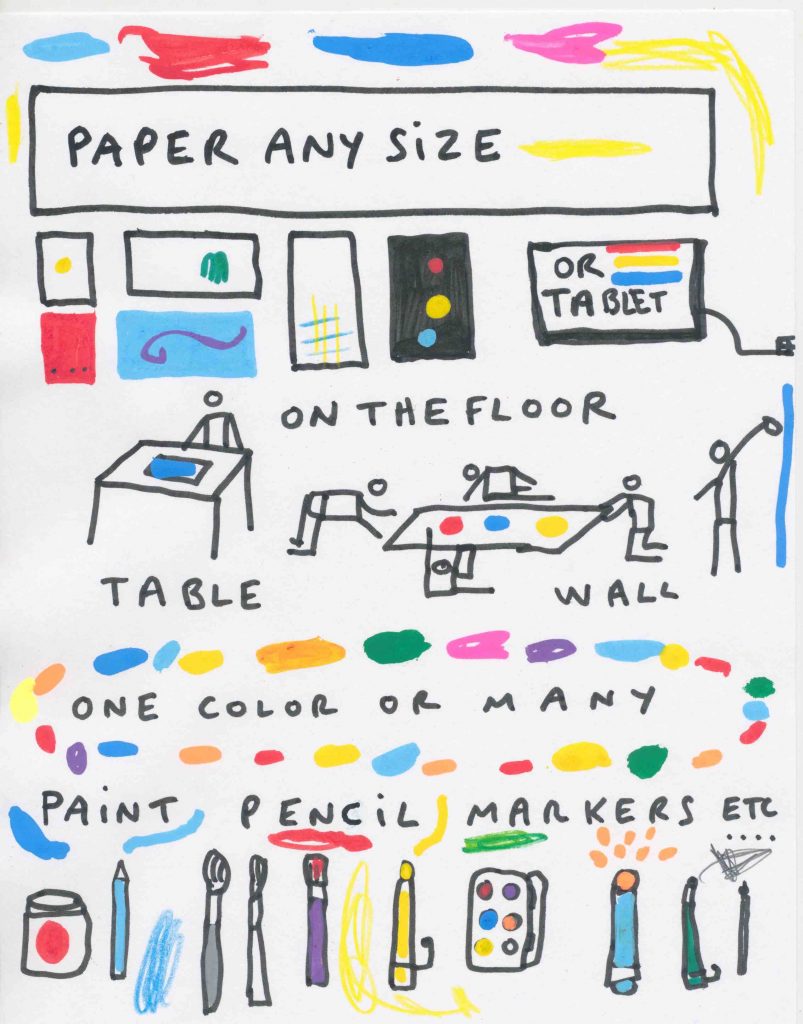 L'évènement est soutenu par les services culturels de l'ambassade de France, l'évènement sera aussi repris par le site Bayam, des édition Bayard.
Le Petit Journal.com
https://lepetitjournal.com/new-york/pour-les-enfants-atelier-fleurs-avec-herve-tullet-sur-facebook-279157
Pour les enfants : Atelier « Fleurs » avec Hervé Tullet sur facebook
Hervé Tullet, artiste de la création ludique et décomplexée et auteur à succès de livres pour enfants dont Un Livre vendu à des millions d'exemplaires dans le monde, animera un grand "atelier Fleurs" gratuit ce samedi 25 avril à 11:30 am (heure de New York) sur la page Facebook des Services Culturels de l'Ambassade de France aux Etats-Unis. 
Cet événement est organisé en partenariat avec, entre autres, La Petite Ecole New York, école maternelle bilingue située dans l'Upper West Side et Greenwich Village.
« Les Italiens chantent, nous allons dessiner » a été la première réaction de Virgil de Voldère, son directeur alors qu'il préparait l'adaptation du programme de La Petite Ecole vers un enseignement à distance avec La Petite Ecole @ la maison au début du confinement. 
« Nous travaillons très souvent avec Hervé qui est en résidence à l'école depuis 4 ans. La façade de l'école PS84 dans l'Upper West Side ainsi que les murs de notre école dans le Village ont notamment été métamorphosés grâce à de grands ateliers "Fleurs" d'Hervé. Dans les circonstances actuelles, il nous est apparu évident d'organiser un grand atelier virtuel. Samedi, nous vivrons ce moment de création collectif en ligne partout dans le monde. Seuls ou en famille, petits et grands, pourront (re)plonger dans l'univers d'Hervé et faire naître un champ de fleurs ! »
Et pour entretenir cet élan créatif, Virgil continuera à animer en direct Les Ateliers de La Petite Ecole NY tous les mardis, mercredis et jeudis à 3:00pm sur la page Facebook de l'école.
Pour créer cette grande exposition collective, les participants sont encouragés à afficher leurs créations à leurs fenêtres et à les partager sur les réseaux sociaux #artinmywindow #expoideale #lapetiteecolenyc et taguer les différents partenaires @expo_ideale_herve_tullet @lapetiteecolenyc @bayam_fr @FrenchCultureUS 
Pour participer :
C'est gratuit ! Rdv sur Facebook 
Préparez-vous avec du papier et des crayons ! Voici les instructions d'Hervé :